High Sheriff officially launches Surviving Winter appeal
---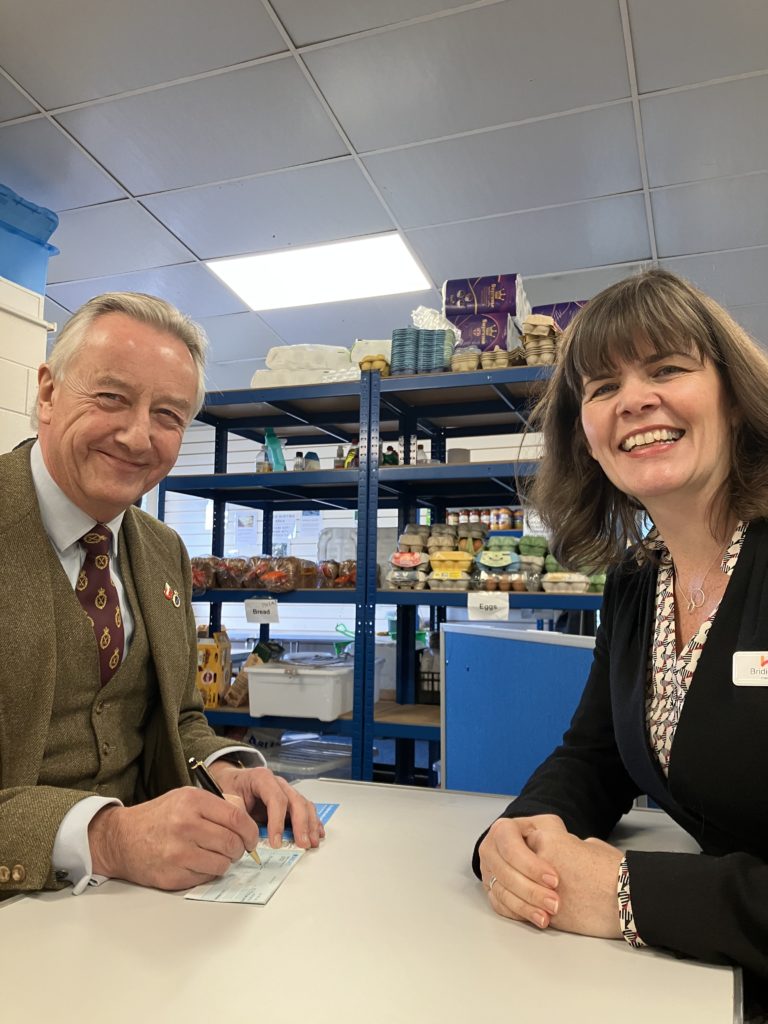 With 28% of Herefordshire households now living in fuel poverty (according to latest figures from Herefordshire Council), High Sheriff Robert Robinson has today officially launched Herefordshire Community Foundation's 2023 Surviving Winter appeal. It is raising money to help the county's vulnerable households and vital community spaces to stay warm over the colder months.
To mark the launch of the appeal, Robert Robinson donated his Winter Fuel Payment whilst on a visit to Ledbury Food Bank commenting, "Over the next few months, many households will be facing real hardship. HCF's Surviving Winter campaign acts as a bright light on a dark day as it gives local residents the gift of warmth. Grants are given on the basis of a professional referral, such as from a food bank or Citizens Advice. This means that every penny raised is directed to those who most need it across the county."
Bridie Sullivan, Chief Executive, explains the thinking behind the appeal: "We know only too well that local people are struggling to afford both heating and food which ultimately leads to people being cold, hungry and unwell. This year the Government is giving pensioners the Winter Fuel Payment and an additional cost of living payment. We're encouraging those who don't need this support to donate it to our appeal instead. The feedback we receive blows us away, as a relatively modest grant can make an enormous difference to someone's life."
This is the 12th year that HCF has run the Surviving Winter appeal which has given out over £100k to date, thanks to the generosity of local donors. Grants are awarded to vulnerable households suffering hardship and to community spaces so that they can stay warm and welcoming. Projects which provide meals to those in need can also apply for funding.
Mark Lister, Trustee of Ledbury Food Bank said, "Ledbury Food Bank has experienced unprecedented demand this year and it is set to increase as we move into Winter. We are grateful to HCF for their Surviving Winter appeal and look forward to working with them to help some of the most vulnerable households in our community."
Surviving Winter grants are given as a priority to those who are vulnerable, disabled, elderly, supporting small children or suffering with a long-term health condition.

If you would like to donate online, visit www.herefordshirecf.org/survivingwinter.
Alternatively, ring 01432 272550 to donate over the phone ​​or send a cheque to Herefordshire Community Foundation, The Fred Bulmer Centre, Wall Street, Hereford HR4 9HP( please include a note that it is for Surviving Winter).